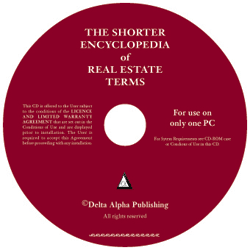 The CD-ROM version of The Shorter Encyclopedia of Real Estate Terms contains the entire text of the book, with the ability to search by term or word, and to search for cases, statutes, bibliographical references, and more.
System Requirements:
OS: Windows 98/ME/NT/2000/XP PC
with Pentium© II or higher, or equivalent
Memory: min 128MB RAM, 512MB recommended
Graphics: 1024x768 or above recommended
CD-ROM Drive Hard Drive Space: min 400MB
Internet Explorer 6.0 Java 1.4 or above for best
use of Note Pad

If Autostart does not open automatically, select RUN from START menu, type D:\SETUP.EXE (where D is your CD-ROM drive) and press OK. Reboot after installation.
The CD-ROM is for use on one PC only.